You can support the King Albert II Institute of the Cliniques Universitaires Saint-Luc in its various activities, whether in the clinical field, or in research or teaching.
The Saint-Luc Foundation is the reference for sponsorship at Cliniques universitaires Saint-Luc. Since 1986, it has been funding excellence and humanism at Cliniques universitaires Saint-Luc. The St. Luke's Foundation collects funds, transparently and rigorously, for the benefit of top-level research, the acquisition of state-of-the-art equipment and technologies, and the training of medical specialists and health professionals at Cliniques Saint-Luc.

The Saint-Luc Foundation is authorized to produce tax certificates and benefits from many other tax advantages, being an entity of the UCL, which is fiscally assimilated to a public utility Foundation.
You can support us with a donation or a bequest.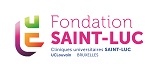 Donations can be made directly to the account of the "Fondation Saint-Luc", either in a single payment or by means of a standing order.
It is imperative that you begin the transfer form with the words "King Albert II Institute".
If you would like your donation to be allocated specifically to one of the current projects, simply indicate this on your transfer form.
Donations of 40€ and more on an annual basis are tax deductible.
Account numbers:
191-0367771-10 (CBC)
IBAN: BE41 1910 3677 7110
BIC: CREGBEBB
You can also support us on the occasion of a private event: a birth, a wedding, a retirement, a death,...
You can choose to support the King Albert II Institute by making a bequest to the "Fondation Saint-Luc" (Avenue Hippocrate, 10, 1200 Brussels).
The precise allocation "King Albert II Institute" must be indicated.
For further information, please contact Astrid Chardome, Legal Officer in charge of planning and inheritance, by telephone: +32 2 764 17 39 or by e-mail
Clinic
The quality of life of the patient and the "well-being" dimension are of paramount importance in the treatment of cancer and are particularly dear to our hearts. We would like to renovate the premises of the King Albert II Institute, reinforce the staff for the psychological support of patients and their families, create a relaxation area for patients and their families, etc.
Research
In terms of research, our teams depend on external funding, whether to hire researchers or acquire new equipment, etc. We are currently developing the tumor bank, focusing on the search for new treatments or new technologies, etc.
Education
It is our duty to train the doctors and researchers of tomorrow. It is also essential to exchange our knowledge and know-how with our foreign colleagues. We encourage training visits abroad for our employees and organize our own training program for foreign doctors.