Activities and associations

During the year, various activities are offered to children in treatment as well as to their brothers and sisters. These activities are carried out with the support of various associations that work voluntarily to raise funds.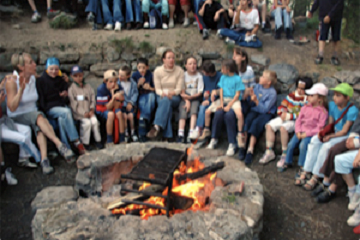 Valentine De Vos Camps 
For 25 years, the pediatric hematology and oncology department has been organizing annual holiday camps specifically for sick children being cared for in the department. These camps are supervised by a medical team from the Saint-Luc University Clinics.
Supervised by a hematologist and paramedical staff from the Saint-Luc, as well as by a team of organizers, more than 80 children from the age of 7 to 14 are given the opportunity to discover the joys of the mountains each year. In winter, the children participate in winter sports in France. In summer, they can take part in fantastic walks and outdoor games in the Valais region of Switzerland. It is an opportunity to spend time together away from the hospital and create a spirit of solidarity. These camps are an oasis of hope and life offered to sick children being cared for by the department.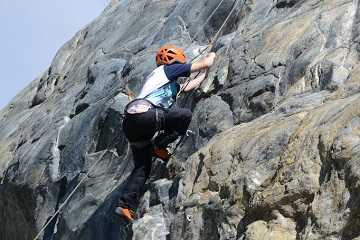 À chacun son Cervin (Fund for sick children)
Since 2000, in July, around ten teenagers are given the opportunity to experience the high mountains in Zermatt.
Accompanied by 3 guides and a medical team from the Saint-Luc University Clinics, they discover the joys of mountaineering.
At the end of the trip, they rope together in a group and climb to 4,000 meters. Their desire, courage and solidarity help them conquer it. Reaching the summit is not just a victory over the mountain, it's a victory over themselves. This unique experience teaches them that nothing is impossible and this helps them in their fight against the disease.
Summits make us dream and the dream is finally attainable.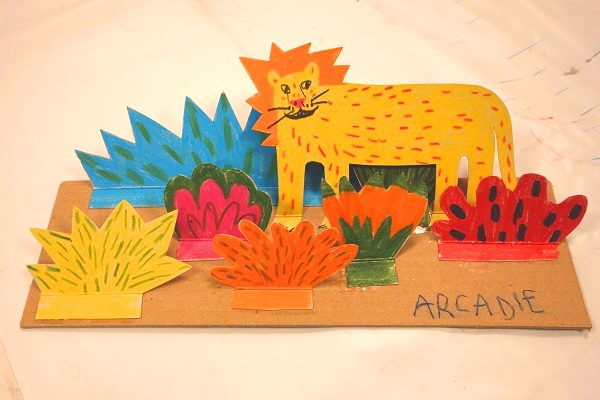 Arcadie workshops
The supervisor provides an open space dedicated to the brothers and sisters of children who are hospitalized for a long period of time. Artistic workshops are organized to that siblings can get together and express themselves.
The Arcadie workshops are held on Wednesdays and Saturdays between 14:00 and 17:00 on the 8th floor of the Saint-Luc University Clinics (Escale classroom), including during school vacations. The timetables are displayed in each room.
And children who are not able to leave their rooms have not been forgotten.  If all the necessary precautions are taken, the same activities are offered to them on Fridays.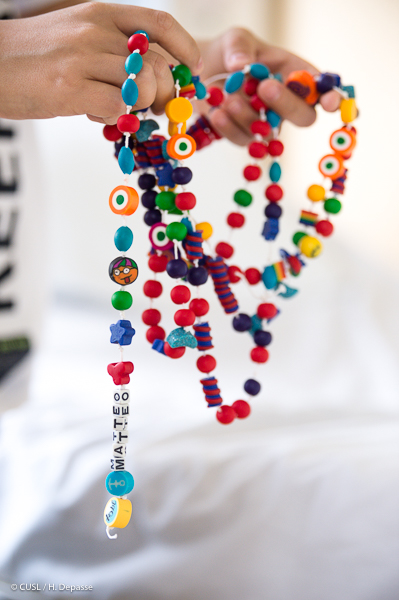 Le collier des héros (The necklace of heroes)
Le collier des héros is a tool that supports children and teenagers with cancer and their families. Throughout their care pathway, children or parents can get together in the form a necklace, beads that represent the stages of their treatment.  Le collier des héros can help encourage children in their journey. Some families also use the necklace to explain and prepare their child for the next stages of their treatment or to talk to their family and friends about their disease.
All children and teenagers being treated for cancer in the pediatric hematology and oncology department at Saint-Luc University Clinics are free to take part in this project. It is free for families.
If you are interested in this project, please will be happy to talk to you about it during one of your visits to the pediatric hematology and oncology department. A member of the team will discus the project with you in more detail.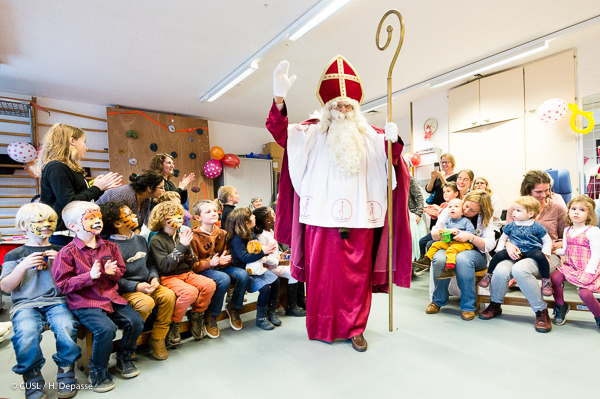 Saint-Nicolas and Easter Celebrations
Every year, the Escale school organizes Saint-Nicolas and Easter celebrations in partnership with the medical and paramedical teams.
Various activities are offered during these two days of celebration.
A show is organized for the Saint-Nicolas celebration. It is an educational initiative developed within the outpatients department classroom.
On the day of the Easter celebration, creative workshops are offered in the morning and a show takes place in the afternoon.
Siblings are invited y to take part in these two days of celebration.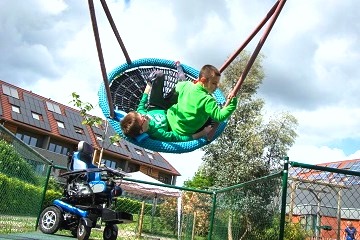 Associations
For many years, volunteers from various associations "Les Enfants de Salus Sanguinis", "Run for Hope", "Jennifer asbl" and "Fondation Jana de Koker" have been doing all they can to raise funds to help fulfill projects and initiatives aimed at promoting the well-being of children cared for the pediatric hematology and oncology department.
Indeed, these associations are focused on offering children and their families moments of well-being, relaxation and escape in order to improve their quality of life both in hospital and at home.
The financial contribution of the associations is used, among other things, for:
- purchasing devices and equipment for the pediatric hematology and oncology department in order to improve the care and comfort of patients
- the implementation of new projects within the pediatric hematology and oncology department
- purchasing equipment for home-based care carried out by liaison nurses
- providing accommodation for families who live a long way from the hospital
- organizing fun and recreational activities (Feast of St. Nicholas, creative workshops, recreation day at a theme park, etc.) and trips to the mountains ("Valentine Devos" summer and winter camps, "A chacun son Cervin" summer camp)
- providing care staff with specific training in field of pediatric oncology and hematology
- some of the massages given to children and parents
- making children's wishes come true (make a wish, Mistral Gagnant (Belgian charity))