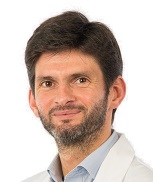 Associate Head of Clinic - Department of Nuclear Medicine
Imagerie PET/CT dans les maladies lymphoprolifératives, maladies infectieuses/inflammatoires et cancer du sein.
Language spoken: Dutch, French, Engels
Career
Diplômé médecin à la KU Leuven en 2004
PhD fellowship à Stanford University, California, USA (2004-2007), PhD in Biomedical Sciences KU Leuven (2009)
Diplômé spécialiste en médecine nucléaire à la KU Leuven en 2011
Chef de Clinique Adjoint/Associé, service de médecine nucléaire de l'Hôpital Universitaire Gasthuisberg, Leuven (2011-2019) et chargé de cours/assistant professor, département d'imagerie et pathologie, KU Leuven (2011-2019)
Senior Clinical Investigator Fellowship, Research Foundation-Flanders (2011-2019)
References
Le docteur Gheysens est (co)auteur de plus de 100 articles dans diverses revues médicales/scientifiques internationales.
Il est membre des Sociétés belge (Belnuc), européenne (EANM) et américaine (SNM) de médecine nucléaire. Il est également membre du comité d'inflammation et infection de la société européenne de médecine nucléaire (secrétaire 2015-2017, vice-chair 2018-2020, chair 2021- ).
Il est membre de l'éditorial board du European Journal of Nuclear Medicine and Molecular Imaging et reviewer de nombreuses revues scientifiques internationales.
Contact
Consultation secretariat (Appointment)
Nuclear Medicine Consultation Secretariat
+32 2 764 25 82
Floor: -1 Road: 412
Medical secretariat (results, questions)
Nuclear Medicine medical secretary
+32 2 764 25 80
+32 2 764 25 85
Floor: -2 Road: 500