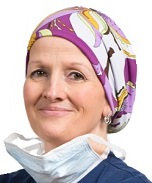 Head of Clinic - Department of Abdominal Surgery and Transplantation - General and Abdominal Pediatric Surgery Unit
Chirurgie néonatale , greffe hépatique pédiatrique.
Language spoken: French, Spanish, Engels
Career
diplôme de médecine en 2000 à l'ULB.
diplôme de chirurgie à l'ULB en 2007
s'est spécialisée en chirurgie digestive et greffe hépatique pédiatriques à l'Hôpital La Timone enfants à Marseille, à l'Hôpital Lapeyronie à Montpellier et aux Cliniques universitaires St Luc
References
Appartenance à la BELAPS (Belgian association of paediatric surgeons), BTS (Belgian Transplantation Society), ESOT (European Society for organ transplantation).

Prix Pfizer reçu en 2007.
Contact
Consultation secretariat (Appointment)
Pediatric Digestive Surgery Consultation Secretariat
+32 2 764 14 01
+32 2 764 19 20
Floor: -1 Road: 406
Medical secretariat (results, questions)
Pediatric digestive surgery medical secretariat
+32 2 764 14 01