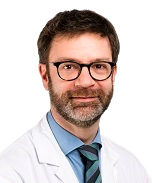 Head of Clinic - Department of Abdominal Surgery and Transplantation - Colorectal Surgery Unit
Chirurgie oncologique (cancer) colorectal y compris le traitement des carcinoses péritonéales par chimiothérapie hyperthermique intrapéritonéale (CHIP) Chirurgie laparoscopique, y compris à incision unique ou SILS (single incision laparoscopique surgery),
Language spoken: French, Engels, German, Luxembourgish
Career
Diplômé médecin à l'UCL en 1996
Diplômé spécialiste en chirurgie générale en 2002
Formé en Chirurgie Colorectale aux Cliniques universitaires Saint-Luc, à l'Hôpital Saint-Antoine (Paris), et à la Mayo Clinic (USA)
Thèse de Doctorat en sciences médicales (PhD) en 2015
Chargé de Cours Clinique à l'Université Catholique de Louvain en 2015
References
Activités cliniques
Le Pr Léonard est spécialisé dans les pathologies colorectales oncologiques (cancer colorectal) y compris dans leurs formes avancées telle la carcinose péritonéale. Tout en visant des traitements optimaux, l'emphase est également mise sur le confort, le bien-être et la qualité de vie du patient notamment grâce à des approches chirurgicales mini-invasives et à la réhabilitation améliorée après chirurgie colorectale ou Fast Track. Ses centres d'intérêt sur le plan scientifique incluent les facteurs de risque de récidive du cancer en particulier rectal, chirurgie robotique colorectale et la chimio-hyperthermie intrapérionéale (CHIP).
Appartenance à des sociétés professionnelles / Prix reçus / liens avec des revues :
Société Royale Belge de Chirurgie
Section Belge de Chirurgie Colorectale
Société Européenne de Coloproctologie (ESCP)
Contact
Consultation secretariat (Appointment)
Surgical and Transplantation consultation secretariat
+32 2 764 19 92
Floor: -1 Road: 387
Polyclinic consultation secretariat
+32 2 764 21 22
Floor: -1 Road: 430
Medical secretariat (results, questions)
Colorectal surgery medical secretariat
+32 2 764 14 64