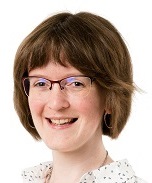 Deputy Head of Clinic - Pathological Anatomy Department
pathologie sénologique
Language spoken: Dutch, French, Engels
Career
Diplômée médecin à l'Hôpital Universitaire de Gand en 2011.
Diplômée docteur en sciences médicales (PhD) à l'Université de Gand en 2015.
Diplômée spécialiste en pathologie anatomique à l'Hôpital Universitaire de Gand en 2018.
Fellowship en pathologie sénologique et gynécologique à Erasmus Medical Center Rotterdam (Pays-Bas) en 2018.
References
Prix reçus :
« Clinical mandate » (mandat postdoctoral mi-temps, portant sur une durée de 5 ans) de la Fondation Contre le Cancer (2019).

Mandat de « clinicien chercheur spécialiste post-doctorant » du Fonds de Recherche Clinique Saint-Luc en 2018 (Bruxelles).

Bourse de spécialisation (18.000 euros) de la Fondation Mathilde Horlait-Dapsens en 2017 (Bruxelles).

Prix du Fonds Yvonne Boël (2500 euros) pour la meilleure présentation orale pendant la « 5th Belgian Week of Pathology » en 2014 (Gand).

Prix d'Eos (500 euros) en 2011 (Louvain).
Le Dr Van Bockstal a publié une quarantaine d'articles dans diverses revues médicales internationales. Ses centres d'intérêt sur le plan scientifique incluent le rôle de l'inflammation dans l'évolution du cancer du sein, les facteurs pronostiques pour le carcinome canalaire in situ, et les caractéristiques histopathologiques comme indicateurs de qualité dans la prise en charge des cancers de sein. Elle est également membre de la Société Belge de Sénologie (SBS), Belgian Society of Pathology (BSP), Forpath, et British Division of the International Academy of Pathology (BDIAP).
Contact
Medical secretariat (results, questions)
Anatomy pathology medical secretariat
+32 2 764 67 35
+32 2 764 67 36
+32 2 764 67 37
+32 2 764 67 38
+32 2 764 69 34 fax